Oh yeah, pictures!!! (Hear the sarcasim in that?) No really--I love taking candid snapshots of the kids while their playing or just doing daily things, but getting us all set up for family pictures is a whole 'nother ballgame!! It's kind of like pulling teeth--to say it nicely! With the ship coming home in October and Michael on some extended leave we decided to take family Christmas pictures early this year. Okay, truth be known, it's so our snot isn't freezing into cartoon characters on the side of our face in December! Well, and that Michael also wanted some facial hair for a change!!! I know--I know, but he's got to show it off while he can! We all get ready and thank our lucky stars that it's NOT currently raining at the time in the lovely state of Washington, then head out to the swamp grounds I've scoped out PRIOR to 5 days of straight rain--another big yeah! The wind is blowing my hair and it's sticking in my lipgloss, the sun is going down, and it's starting to get quite cold---come on kids---quit goofing off and smile for me! YOU TOO MICHAEL! I don't care that your sitting on a rock that's crammed 2 inches into your butt! Let's just get this done!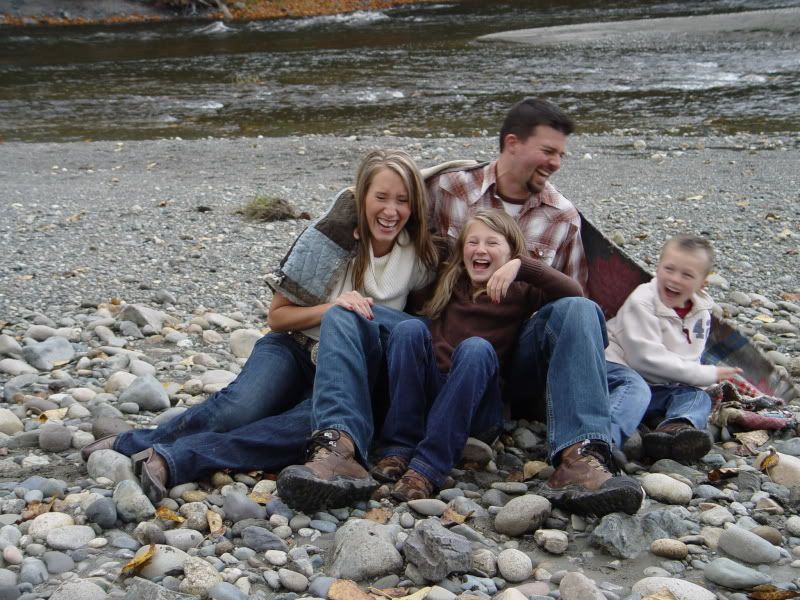 So, a couple hours later and the idea that shooting myself in the foot sounds like more fun; we have our pictures! At least I think so........
Next year, instead of going somewhere to HAVE our pictures taken, I'll be asking myself all over again why in the world I do this! Hey, at least this year I remembered to take the tripod and didn't have to prop the camera on the top of the van!!! Baby steps, Bob; baby steps!